13th Dec 2015 | Article
Herbs for Summer Complaints
Stay healthy in the summer with some herbal help from our medical herbalist Julia Schultz.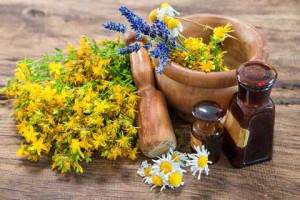 Some common summer complaints can be avoided by following sensible advice and using medicinal herbs as teas, tinctures, lotions or creams.
Our herbalist JULIA SCHULTZ is offering some tips to help you enjoy your holiday fully:
* One of the most important things during hot days in the sun is to keep well hydrated, so always keep a bottle of fresh clean water with you. Babies and the elderly dehydrate quickly. Headaches can be prevented by drinking enough water.
* Sun, caffeine and alcohol don't mix and will accelerate dehydration
* Avoid fizzy drinks that contain sugar, artificial sweeteners, colourings and flavourings. Even in small quantities these can affect both physical health and behaviour. Children are especially vulnerable. Diluted fresh juices are far better for you.
* Avoid long exposure in the sun especially at mid day and wear a hat.
* Use a safe sunscreen that doesn't contain harmful chemicals. There are several to choose from. Yaoh organic hemp seed sun block, factor 30 and Weleda are both very good.
* If you do burn then drink plenty of water and apply some Aloe Vera gel and gently massage the contents from a vitamin E capsule into your skin to help heal any damage. Calendula and Lavender are also excellent for burns.
* Hot sweaty feet and bodies will encourage athlete's foot and fungal infections. Wash feet each morning and evening and dry thoroughly, then massage some tea tree cream into your feet and around toe nails to keep them healthy.
* A tube of tea tree cream is very useful as an antifungal and antiseptic to prevent infection from bites, cuts and grazes.
* If travelling to high risk areas where malaria, parasites and gastric complaints are common it is well worth visiting your herbalist to discuss a herbal kit that is specific to your needs.
* Use a mosquito net at night and spray it and the surrounds with natural insect repellents. Citronella is popular but must not be used directly on ski to the sun.
* Vitamin B complex and eating plenty of garlic is helpful if mosquitoes love you.
* Take a good probiotic daily to assist with healthy gut flora.
* Echinacea, Chamomile and Garlic are useful herbs to carry. Echinacea is antibacterial, anti immunostimulant and antiseptic. The tincture can also be diluted and used for wounds. Chamomile is antibacterial, antifungal, and antispasmodic. A very useful herb for tummy upsets and when there is griping and cramping. Garlic is antiparasitic, antifungal and antibacterial, making it an excellent addition if parasites are suspected, particularly intestinal worms.
* Only brush you teeth and drink bottled safe water and avoid unpeeled fruit or salads as they may have been grown or washed in contaminated water.
* It is advisable not to visit high risk areas if you are planning pregnancy or are pregnant. Some diseases will place your baby at risk and some treatments may not be advisable during pregnancy.
* Remember that good preparation and prevention is always better than cure!
JULIA SCHULTZ, DBTh, NFM, MMHA, MNHAA. Julia practises at the Brackenbury as a Medical Herbalist and Natural Fertility Management Consultant.
Newsletter
Subscribe to our newsletter to receive special offers, therapy news, health tips and more…